Testing...
Waiting...
Testing...
Done
Test not found
Your webpage-performance test has been submitted and is now being processed. This page will automatically update with the test status as the test continues to run. When the test is complete the final results will be available here.
You can either leave this page open in your browser until the test is complete, or come back later and check on the status of the test (the browser does not need to remain open for testing to continue).
Did you know?
(all links open in a new window/tab)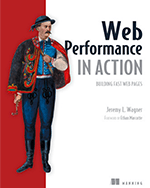 Manning has published "
Web Performance in Action
" by
Jeremy Wagner
Web Performance in Action
is your companion guide to making websites faster. You'll learn techniques that speed the delivery of your site's assets to the user, increase rendering speed, decrease the overall footprint of your site, as well as how to build a workflow that automates common optimization techniques.
The full list of contents is available from
Manning
and WebPagetest users get 40% off with the discount code
webpagetest40%
.